My Full-Project Process
To create a marketing system that delivers your best clients, I use a four-step framework…
Step 1: Diagnosis
This step immediately sets me apart from pretty much any copywriter or agency I have come across, so, it is worth paying attention to.
The standard pre-signing process copywriters and agencies use is to carry out one to three discovery calls and then present a proposal of work. That normally includes a detailed list of deliverables and a complete description of the work to be done.
This is a solid approach. I used to be one of these copywriters and it helped me close some pretty big deals, but now I do things differently. Here's why…
To create the best possible strategy and describe the exact deliverables you need without a detailed analysis of you, your company, your market, and your niche, is guesswork. Intelligent guesswork, but guesswork nonetheless.
Think of it this way; would you expect an architect to draw final plans for your new home after a phone call? Without spending time at your site? Talking to the people who will live there? Understanding everyone's needs?
Would you be comfortable if a doctor drew up a treatment plan for you without blood tests, scans, or any kind of medical assessment?
Me neither.
That's why I run a much deeper Diagnosis step after we sign. This is much more than a research phase, which is the industry norm.
Here's how that works…
We begin with pre-contract Discovery Calls. When I have a good idea of your context and needs, I present a proposal with an outline of what I believe will work for you. It might look something like this…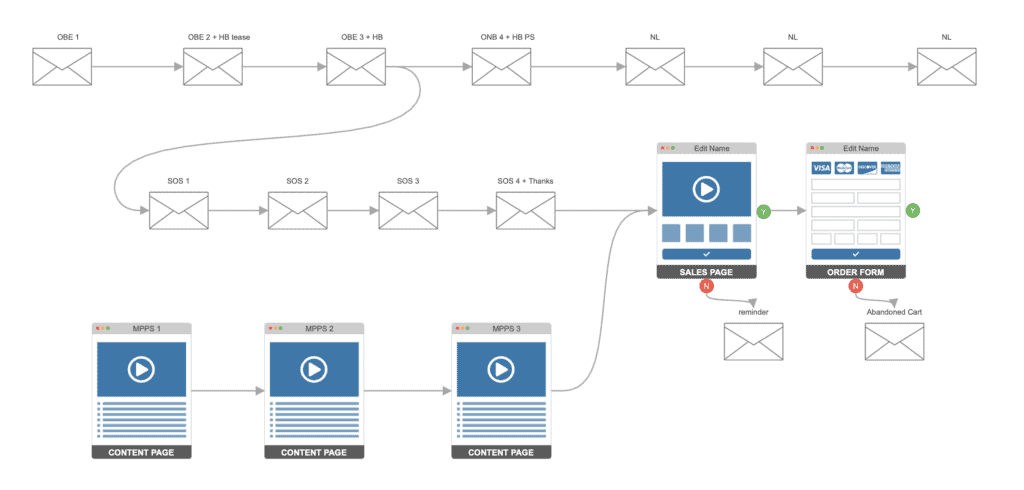 This outline is our Plan A.
Like any first plan, we should be ready to adapt if new data tells us to do so. That's where the Diagnosis phase comes in. That starts once we sign.
My research is quite detailed and will take time. Good work always does.
Here's a snapshot from a report on messaging for a client to unify several of their brands. I've kept the images small as this information is confidential but it should give you an idea of how detailed my work gets.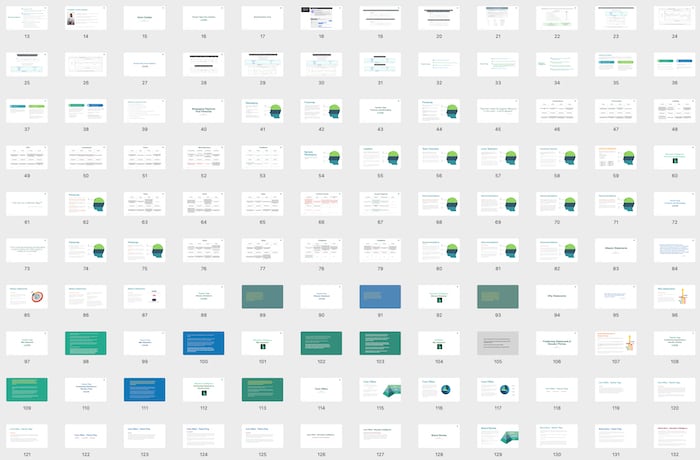 Research that digs this deep finds new opportunities. These may suggest changes or alternatives to Plan A. At the very least it will allow us to refine it. That brings us to the next stage…
Step 2: Strategy
This is the part where I lock in your strategy.
Most likely that will be an improved version of Plan A, but there is always a chance that something might emerge to suggest an even better approach. Because of my process, we have that flexibility.
It's important to understand this is something you and I will go over together. You will always be in the driving seat when it comes to major decisions and you will sign off on any changes.
There's something else you need to know…
Your strategy will be about more than just achieving the stated goal of happy clients. It will be an approach that fits with your business and how you want to market yourself. This will be marketing you will be proud of.
Once we have agreed upon our strategy, we move to Stage Three…
Step 3: Execution
Writing copy, like research, takes time. That time includes space to let the ideas develop and the writing improve. And throughout the entire process, I'll keep you fully in the loop with over-the-shoulder reports.
Once your copy is written, it enters the revision window.
I'll walk you through the best way to review copy so you make the most of that time.
I then hand over the final copy assets with detailed notes for your technical people to implement.
Non-webcopy (emails, etc.) will be delivered as a Google document.
Your webcopy will be delivered as a Google document plus an Adobe XD wireframe.
A wireframe is a rough layout of the page. It's not intended to be a design for your site, but some of my clients have used them for that. You're welcome to do so as well and there is no fee for that.
Here's an example of wireframes for a client's lead-generation project…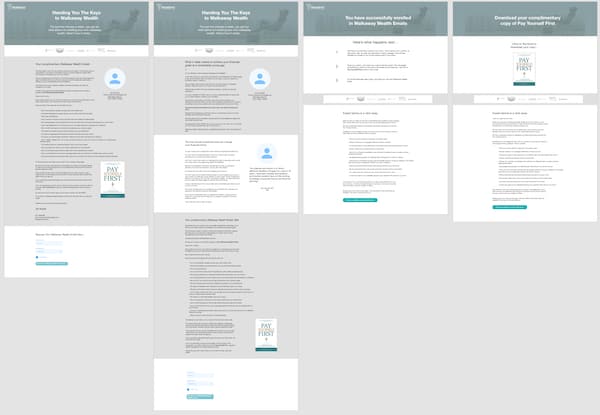 As an additional service, and I also do not charge for this, I will review any webcopy I write for you, within 12-months of delivery, after it has been through the hands of your designer. This is to make sure your copy hasn't been altered or broken up in ways that lessen its impact (you'd be surprised at how often that happens).
Step 4: Optimization
Depending on the work we do together and our agreement, I may be involved after the deliverables are implemented and may oversee that, too.
Once your marketing is set up, it's time to test and see if it is working as we expected. This might be a short process if we are talking about paid traffic (ads). Or it may take more time if we are looking at content strategy.
Either way, part of the work of marketing is to constantly test and optimize and I can do that for you or help you set that up to run on your own.
Next Steps
If you have any questions about my process or how we might work together, just click here to send me a message.